George M.[1] Newton is the owner of the car freshener firm, Newton Air Fresheners. He is married to Alice Newton, and is father to their three kids: eldest, Ryce; middle child, Ted, and youngest, Emily. He also has a brother, Richard.
Much to his protests, he let his family keep the stray St. Bernard, they named Beethoven. Then was coerced into allowing his puppies to live with them temporarily.
History
Beethoven (film)
Insert details here.
Beethoven's 2nd
Insert details here.
Beethoven's 3rd
Insert details here.
Beethoven's 4th
Beethoven continued to stay with Richard and his family, because George's family still hadn't left Europe, yet.[2]
Appearances
TV series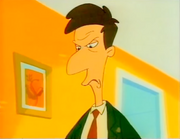 Insert details here.
Behind the scenes
George is played by Charles Grodin. In the TV series, he is voiced by Dean Jones, who also played Dr. Herman Varnick, the main villain of the first film.
References
Community content is available under
CC-BY-SA
unless otherwise noted.